 March Madness is around the corner, and with it comes my 15th annual University Generosity Bracketology. So I'm going to get right to the point.
Some colleges are generous.
Some colleges have strong basketball programs…
…and some colleges are both generous AND have strong basketball programs.
Why does all of this matter? There are two reasons – one is critically important, and the other is, well, trivial but fun.
In my 15+ years of guiding high school administrators, students and families, the issue of affordability is often central to the conversation around assembling a list of colleges. It's no secret that the cost of attendance (COA) at both private and public universities has been on the rise. Back in 2007, when I began advising families, the average COA at a private university was (only) about $56,000 per year; that number is closer to $80,000 today and still on the rise. I just spoke with a family whose daughter was admitted to NYU. Their COA at the Tisch School is a whopping $93,132 per year! However, most families we work with will pay far less than the COA.
Remarkably, the COA at state universities, especially here in Florida, has only increased slightly to about $23,000 annually. State costs have risen steadily across the country, but not at the same level as private college costs. But that's only half the story.
What is less understood is the way colleges "discount" by offering need-based or merit-based aid, or a combination of the two. In fact, all colleges offer discounts, just not in the same way or at the same level, nor do those discounts apply across the board to all students. What is of critical importance to you and your family is to know: 1. which colleges are likely to offer a discount to you; 2. whether that discount will be in the form of need-based or merit aid; and 3. how you can maximize your chances at either or both.
Just looking at the numbers below from the National Association of College and University Business Officers (NACUBO), tuition discounts have been on the rise for several years, approaching a whopping 54.5% during the 2021-22 academic year: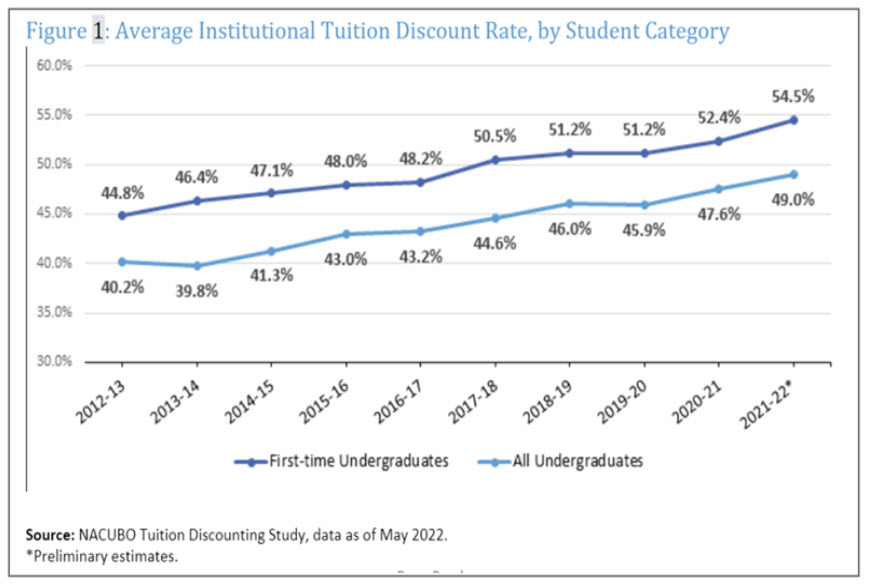 These numbers largely reflect merit discounts, or awards based on grades, test scores, and other factors based on high school performance. Truth is, many colleges offer discounts as a strategic incentive to lure students to enroll.
In brief, the merit discount strategy works like this:
Colleges charge a high price so that the public perceives an intrinsic value. Then, they will offer a big "scholarship" (read: discount) which makes both student and parents feel good and will make the student more likely to enroll. The amount of the discount may vary based on academic performance, but it also might be a way to target students from specific socio-economic backgrounds, high schools, or zip codes. After the discount the remaining cost is still significant so that the school enjoys an impressive sum, but it's low enough that mom and dad can figure out a way to pay. And, they can tell all their friends that their brilliant child earned a scholarship.*
The other way that schools discount is by offering need-based aid to families who demonstrate financial need on the FAFSA and the CSS Profile. The calculation for need-based aid is more direct and transparent, though changes to the federal formula in the next admissions cycle (2023-24) will result in some confusion for many families. Still, most schools publish the amounts they award, on average, as a percentage of the need. So if a school meets over 80% of the demonstrated need (there are many of them!), we would consider that to be quite generous.
There are about 70 colleges who meet 100% of the demonstrated need. You might conclude that these schools are particularly generous, and therefore you should apply to them to get the best financial aid package. But that depends on your own family's income and net worth. An Ivy League school will appear super generous to a family earning less than $100,000 per year, but that same Ivy will offer exactly $0.00 in merit aid. So, for families earning in excess of, say $300,000, an Ivy League school isn't generous at all. This is one reason why students should apply to schools that are right for them, not only academically and socially but also financially, as opposed to selecting the same colleges that your friends are applying to.
So what does this have to do with March Madness? Long time readers may recall that each year I take a look at the Men's Division 1 basketball bracket of 68 teams, and I apply my own "University Generosity" formula to predict the winners. By doing this, we can see how schools differ in their degree of generosity. My methodology may not win you much money in your office pool, but it could yield incredible gains in terms of scholarship and need-based aid when your child receives his/her acceptance letter in April of 12th grade.
Selection Sunday is next weekend, March 12. Next Tuesday, March 14 I'll be announcing my #UniversityGenerosityBracketology bracket live on Facebook, at approximately 12 pm ET. I'll send a Live link before the event, you can follow us on Facebook at www.facebook.com/yourcollegeconcierge.
No athletic event gets me quite so excited as March Madness. The Cinderella stories, the buzzer beaters, the upsets – every March this event always delivers. So I figure, let's try to learn something about these colleges and their generosity in the hope that it will aid in the process of selecting colleges for your child. Come and enjoy the excitement with me, and let's identify the most generous colleges among the 68 lucky dancers, er, participating teams.
If you would like more insight into the college admissions or financial aid processes, don't wait until the last minute when your child is already in the midst of his/her senior year. The best plan is an early plan – reach out to me at peter@YourCollegeConcierge.com or call us at 954-659-1234 to learn how we might be able to assist you and your child with this exciting yet complex exercise that is college admissions.